Celebration Cakes
We specialise in buttercream cakes for weddings, birthdays and any special occasion that calls for cutting a cake.
All our cakes are made from scratch using the finest quality ingredients including Callebeaut Belgian chocolate, free range eggs, Danish butter and house made vanilla extract ensuring our cakes taste just as good as they look.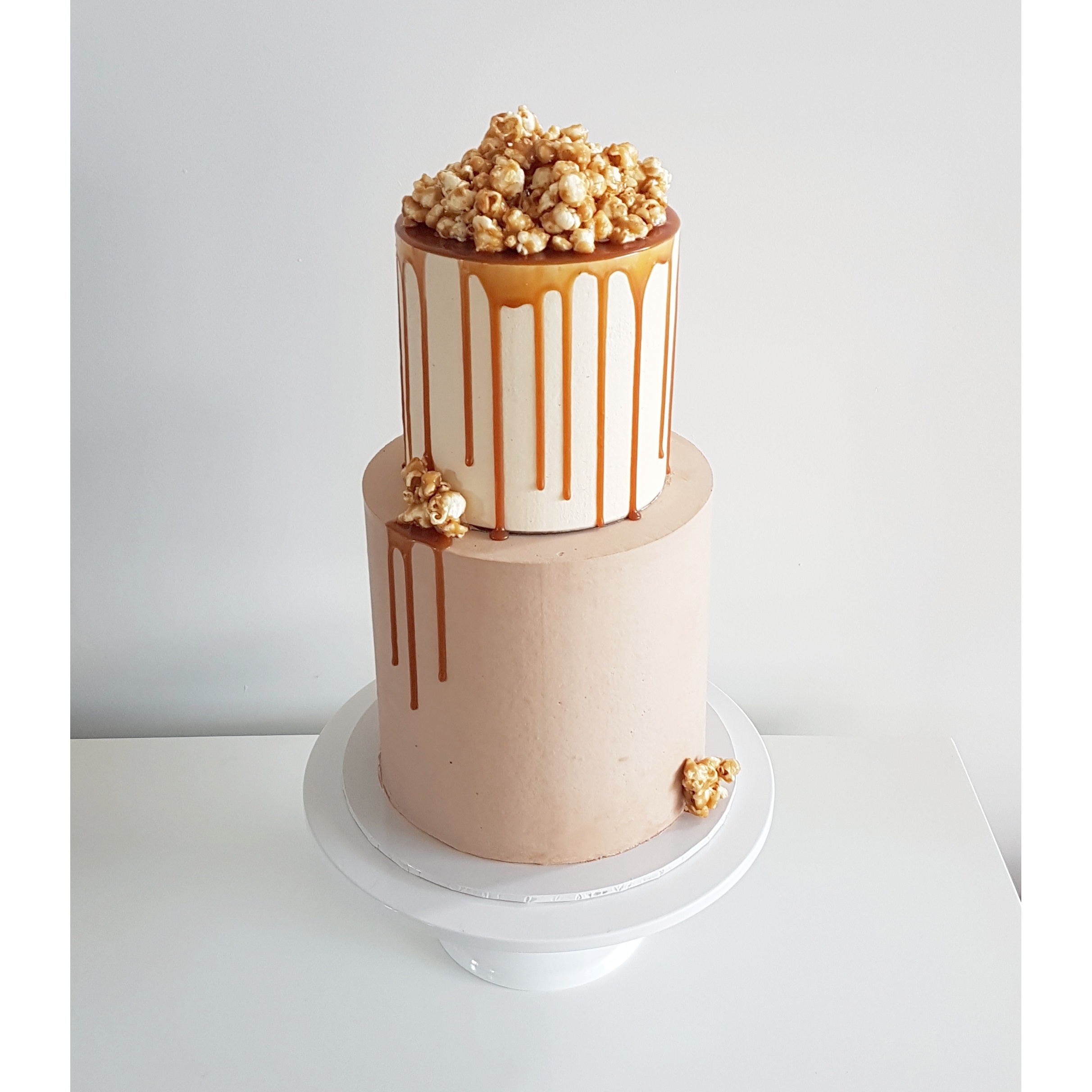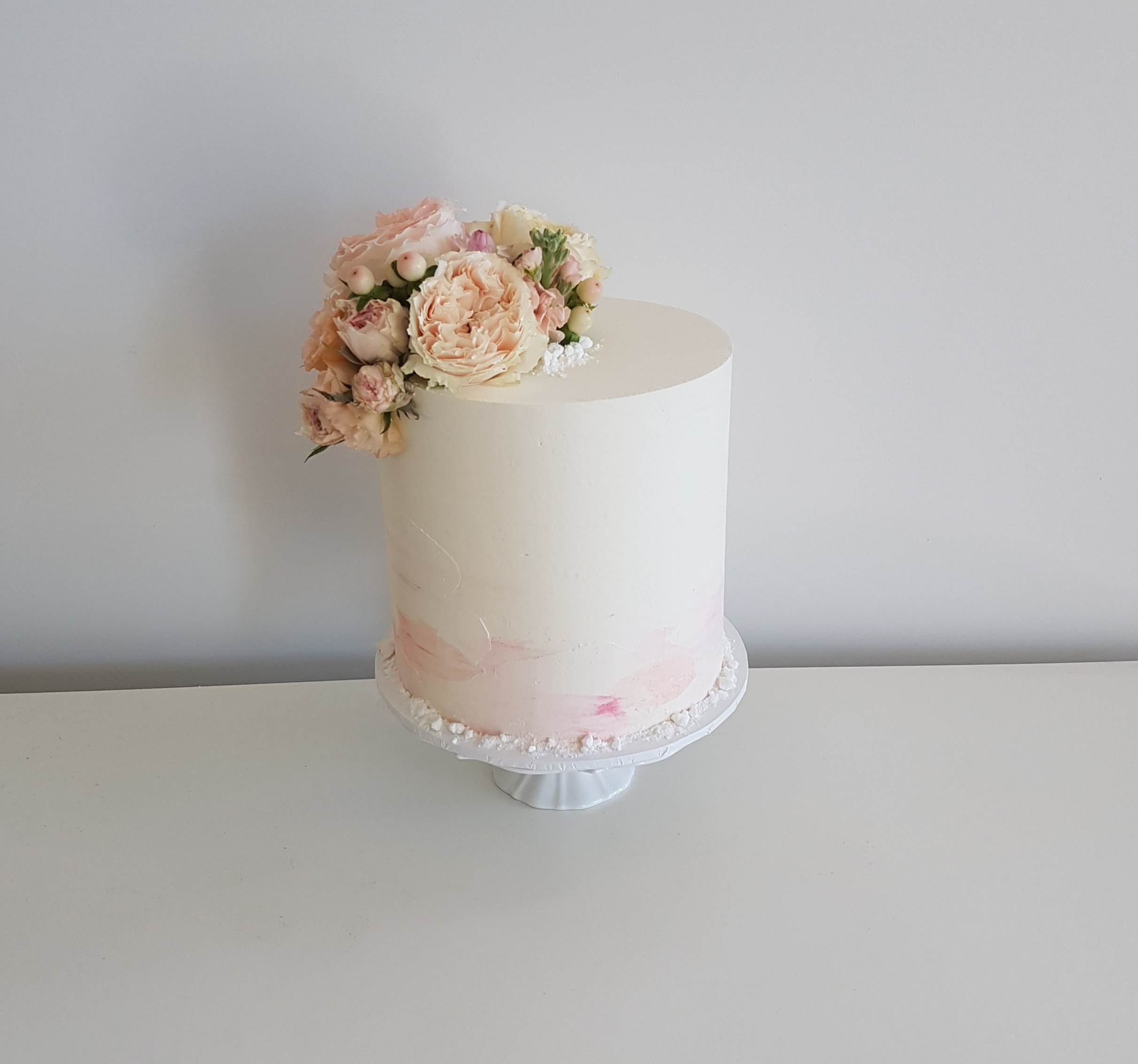 FLAVOURS/
We love creating cakes based on our customer's favourite flavours or desserts, but if you need a little inspiration to get you started our flavours include, but are not limited to:
Cake - Chocolate, vanilla bean, white chocolate mud, caramel mud, orange and poppy seed, lemon, carrot, GF chocolate, GF vanilla bean
Frosting & fillings – Vanilla, chocolate, hazelnut, chocolate & malt, salted caramel, rose, raspberry, passionfruit, coconut, lemon, peppermint, peanut butter
Some of our favourite flavour combinations are:
Bannoffee – banana cake with a salted caramel buttercream, salted caramel sauce and pecan crumble
Tiramisu – Vanilla cake with a coffee soaking syrup, boozy mascarpone coffee filling and chocolate ganache
Hazelnut Rocher – Moist chocolate cake, chocolate and hazelnut praline crunch, hazelnut praline buttercream
S I Z I N G/
You will need to consider if you are serving dessert or coffee size portions. Let us know how many people you would like to feed and we will happily advise what size will suit your occasion. If your budget is limited we recommend getting a beautifully decorated smaller cake and having a kitchen cake for the additional serves.
6" single tier (20-25 serves) | 7" single tier (25-35 serves) | 8" single tier (40-50 serves)
6" + 8" double tier (70-80 serves)
6" + 8" + 10" triple tier (130 - 150 serves)
DECORATION & FINISHES/
Semi-Naked/ swiss meringue buttercream is applied exposing some of the cake
Full Coat/ swiss meringue buttercream is applied fully coating the cake. Finish can be applied smooth or textured to create a perfectly rustic finish.
Florals/ florals are a beautiful touch and can create drama or simply dress a cake in something pretty. (Florals start at an additional $40)
CAKE STAND HIRE/ $20
Our cakes look extra spesh on our gorgeous cake stands which we have for hire.
A bond is not charged, however the hirer will be liable for the replacement cost of any damaged items. Replacement fee for cake stands is $150 each
All hire items are to be returned the following day and are to be returned cleaned by hand.
PICKUP, DELIVERY & SETUP FEES/
Pick up is from the dessert studio in Weston, ACT. We can also deliver to Canberra and surrounding areas. For wedding and 3 tier cakes we recommend delivery to ensure your cake arrives just as it left the dessert studio.
/Canberra - $50
/Out of town such as Murrumbateman, Gundaroo - $80 (Deliveries to locations further out of town are calculated at a rate of $2 per km)
We will not be liable for any damage to cakes once picked up.
Like our style? Then shoot through an order enquiry and we will be in touch.